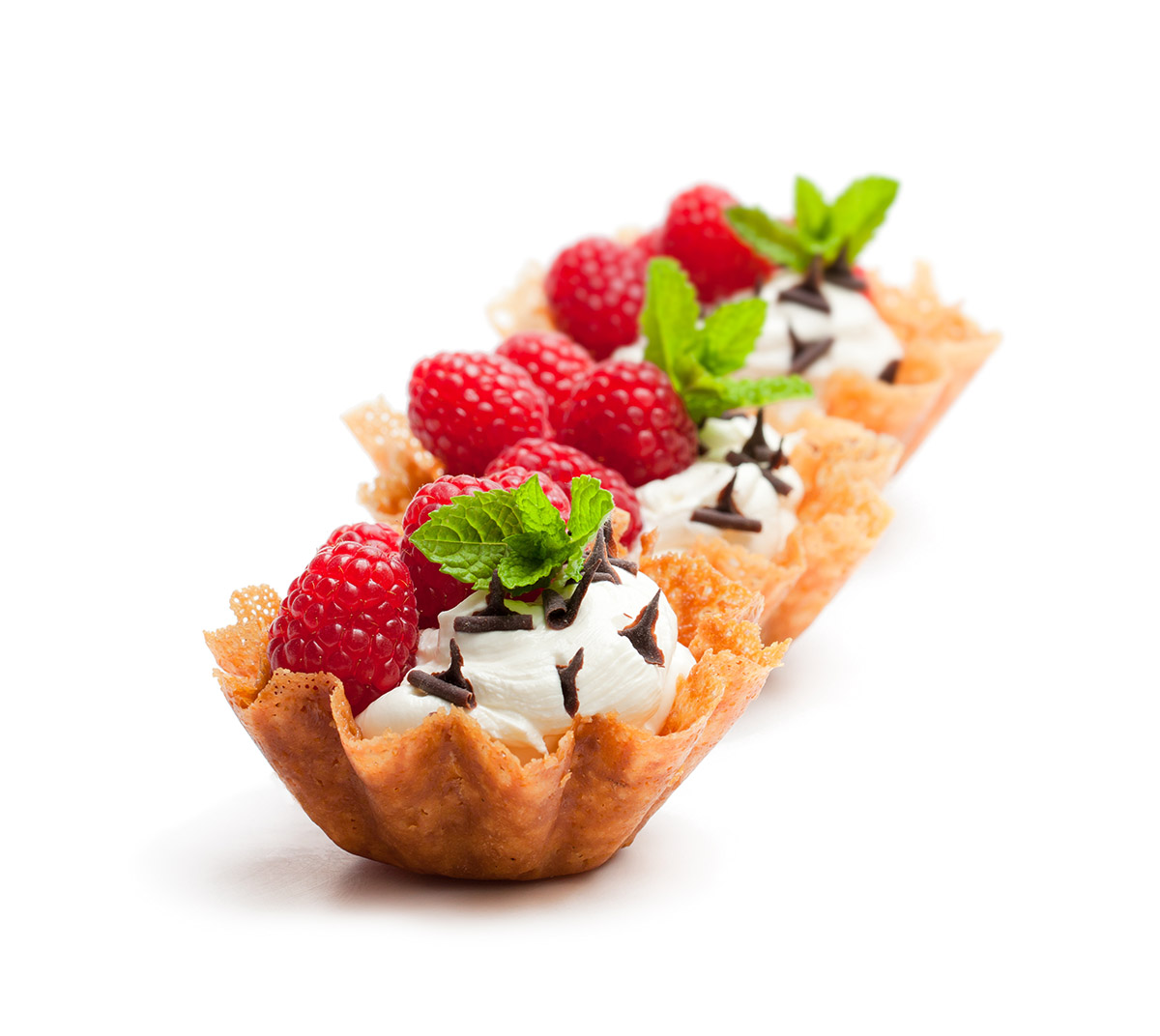 "It's not a brandy snap if it doesn't snap!" - Prue (GBBO 2021)
Brandy snaps are caramelised biscuits. The brandy reference comes from the addition of brandy into the cream traditionally used to fill the brandy snaps.
Like many caramel items, although initially hard the brandy snap baskets will soften with time. On the day of baking they'll snap and stick your teeth together. A couple of days later, the brandy snap baskets will soften and become more fudgy – albeit less suitable to serve desserts in. So bear this in mind if you plan to make brandy snap baskets ahead.
Ingredients
For the baskets, makes 6:
50g soft brown sugar
50g butter
50g golden syrup
1 tsp ground ginger
50g plain flour, plus extra to dust
For the filling:
100ml double cream
30g dark chocolate, broken up
150g lemon curd
100g fresh raspberries
Method
For the baskets:
Preheat the oven to 180°C Fan/350°F. Turn the cupcake tin upside down and butter the tops.
To make the baskets, melt the sugar, syrup and butter in a saucepan. When the sugar has dissolved, remove from the heat. Add the flour and ginger and mix to a thick paste.
Turn the paste onto a work surface, roll into a ball, wrap with clingfilm and chill in the fridge for 30 minutes or until set.
Lightly dust a work surface with flour. Remove the paste from the fridge, cut into 6 pieces and roll each into a disc approx. 2mm thick. Place onto the buttered cupcake tray and gently spread over, so its like a basket shape.
Bake for 6-8 minutes until crisp and golden brown. Once baked, leave to cool.
For the filling:
Whip the cream until soft peaks form, fold in the lemon curd and refrigerate for 15 minutes.
Break the chocolate into a heatproof bowl and melt over a pan of simmering water. Do not let the base of the bowl touch the water.
Transfer the lemon cream into a piping bag with a round nozzle. Place a few of the raspberries into each basket, pipe in the lemon cream, add a few raspberries then drizzle with the chocolate. Set in the fridge for 5-10 minutes before serving.
Top Tips:
Add a dash of brandy to the double cream for some extra va-va-voom. Be careful not to add too much, or else you'll be left with split cream.
If you don't have a cupcake tray, bake the circles on a lined baking tray, once baked, quickly wrap around the bottom of a glass and leave to set.
Store the baskets in an air-tight container and consume within 3 days.
These are great for the summer, top with ice cream, whipped cream, strawberry sauce. Or simply fill it up with lots of berries or exotic fruit.