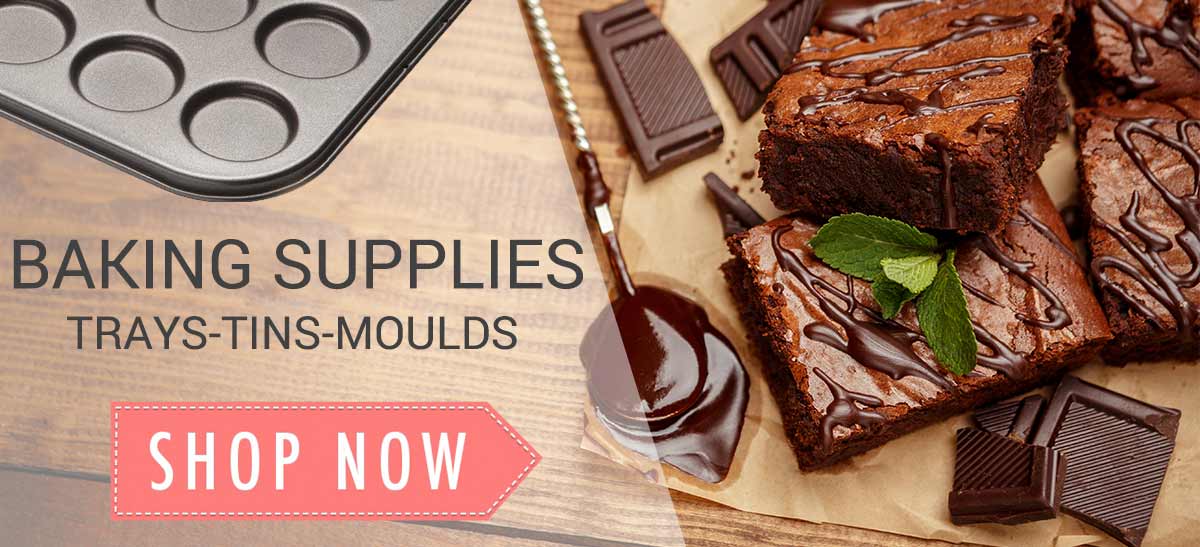 Cake Cabinet offers different types of tools and moulds like cutters & stencils, decorating equipment, floral accessories, sugarcraft moulds, piping & royal icing, chocolate tools, cake dummies, electrical appliances to make your baking process more smooth and comfortable.
Cake decorating tools give the cake a nice decorated look depending on your occasion. It equips you to add value to your creativity and explore more in the cake decoration process. With the availability of different types of cutters and other tools, you have more options to style the cakes. Our baking utensils help you to prepare some of the most beautiful cakes. The distinctive range of moulds, we supply to satisfy the demands of various bakers. With the cookie cutters, cake stencils and baking tins, we are assured you'll feel great while making cakes or cookies!
Cutters: We have wide range of cutters and stencils, which increases the options for you. Flower Cutters, Cookie Cutters, Shape Cutters, Alphabet & Number Cutters etc. are the highlights of our stock. With these cutters you can give any shape to the cakes as per your wish. Our wide range of sugarcraft cutters will enable you to create never-ending shapes and designs to enhance cakes or cookies, whatever your theme. These Cutters can be used with gum paste, sugarpaste, marzipan, or pastry to produce fun-shaped cookies and decorations.
Moulds: We are offering few designs of sugarcraft moulds at the moment like petal veiners, leaf veiners, decorative moulds, flexible icing mat moulds and have the plan to extend this list and will be adding more designs of moulds to this department over the coming days. We understand the importance of moulds and hence one team of professionals are working on this department to introduce new catchy designs of moulds to meet your expectations.
The Moulds are offered in food-grade silicone and plastic, and can be used for different mediums such as fondant, pastillage, gumpaste, chocolate, candy clay, hard candy, marzipan, isomalt and cookies. The benefits with these moulds; they are easy to use and quick to add fine detail and finesse to your makings and they can be reused.
You can choose the right tool as per your need and make your cakes, cookies more inspiring. By going through the tools and moulds category, you find different options out of which you can choose the required product and place the order to have it in your kitchen. We provide the updated tools, which fasten the cake decorating process. Our extensive range of baking moulds enables you to give the perfect look to your cake and cookies. The products which we offer are designed to make it simple for you to make appealing creations. At Cake cabinet, you will find all kinds of cake making tools as we provide something suitable for everyone!
Cake Dummies: We also offer a range of Cake Dummies like Straight Edged Dummies, Chamfered Edged Dummies, and Shaped Dummies in standard shapes and sizes. These are available with traditional straight edges to give a more natural look. For safety measures and cost affecting shipping, these dummies are best ordered as part of larger order.
Cake Cabinet does not consent the return of any edible products unless supplied inaccurately or damaged. Our policy guarantees Food Safety is never conceded. If we were to permit the return of edible products we would have no control over how these goods were kept. Cake Cabinet will not take risks for the mistakes done by others in case of Food Safety hence, we will not resell any merchandise returned by a customer. Because of this reason, we can only accept returns where there is an acknowledged problem with the order or product. Our Food Safety policy protects your safety, the safety of your children or your own customers, so we ask your understanding.
For more information, please see our shipping and returns page.